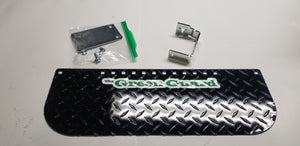 'SLIM' Conversion Kit - Black Aluminum
Do you have an original Green Guard that doesn't quite fit your mower?  The 'SLIM' configuration flips the motor up, so that it's mounted vertical, and uses a narrower swing arm.  This allows the guard to be mounted and open fully with just 4" of width on your mower, vs. 6 3/4" needed for the original green guard configuration.
This kit provides everything needed to convert your original green guard to a 'SLIM' unit.  Also includes instructions on how to do so.  
* Make sure you kept your original hardware and spacers.  You will need the spacers to raise the unit 1".  If you don't have your original hardware, you will need to also purchase a Complete Hardware Kit from the parts page, or find your own bolts and spacers.