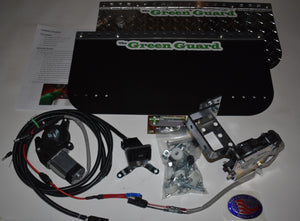 PRO PACK - Complete Installation Kit (w/Rubber & Aluminum Guard & Spare Motor)
Not sure which guard to go with - Rubber or Aluminum?  Or, maybe you want a spare guard just in case?  Go with the Pro Pack & get both a rubber guard & a black aluminum guard.  Pack also includes spare motor!
[FREE SHIPPING!]       [NO SALES TAX!]
NOTE:  This unit uses a power window motor with a plastic worm gear.  It is acceptable for homeowner use. 
* Our HD model is recommended for Commercial Use.
If you would like to pay over the phone, please contact Stacey at 785-249-0121 between the hours of 7:45 am and 12:45 pm CST Monday - Friday.