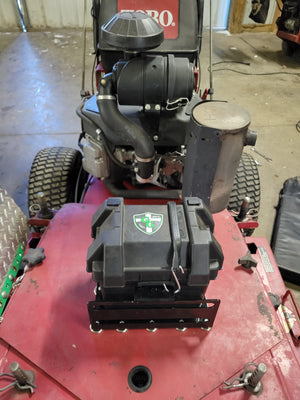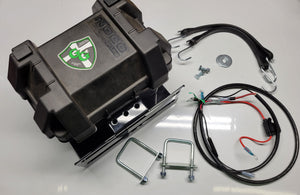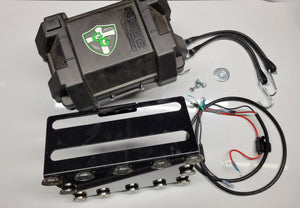 [HD] Battery Booster Kit (Battery not Included)
Do you want to install The Green Guard [HD] on a Pull Start mower with no battery?  You need this kit.  This kit gives you everything you need to install a full-size lawn & garden battery on your mower, and use it to power The Green Guard [HD].  If your mower has an electric PTO clutch to power the blades (and most do), then your mower's engine will be equipped with a charging coil that will recharge this battery whenever the engine is running.  If not, then you will have to recharge this battery when needed.  
Mounting Options:
Option 1 – On walk-behind, mount over rear wheel, using bolts that secure Handlebar to frame.
Option 2 – Use U-bolts to mount to mower's tube frame.
Option 3 – Bolt to top of Mower Deck Cover.
Option 4 – Magnetically mount

 to top of Mower Deck Cover.
Note:  Lawn & Garden Battery not included in kit.  Purchase at Walmart or Auto Parts store for $30 - $40.