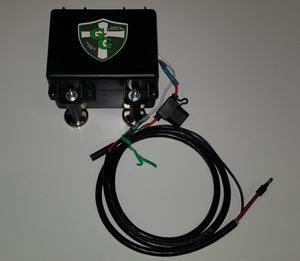 Booster Battery (with magnetic mount)
Are your running a walk-behind with no battery?   For most walk-behinds, the engine charging coil puts out enough power to run the PTO clutch and The Green Guard at the same time.   On some mowers (with a weaker charging coil) the blades may slow down or even kick off when you operate The Green Guard.  For those mowers, this Booster Battery is a solution.  When you aren't operating The Green Guard, the engine charges this battery.  Then when you need to operate The Green Guard, it provides plenty of stored up energy to operate The Green Guard and keep the PTO clutch energized and the blades running smoothly.    Note:  This battery has also been used to power The Green Guard on a Scag 30" Push Mower.  That mower does not have an electric PTO clutch, and thus no power from the engine.  So, the battery must be re-charged periodically with an external charger.  A customer reported the battery lasting a month, and charged it using a battery tender.

With magnetic mount and bullet nose connectors that plug right into your wire harness, this Booster Battery couldn't be easier to install.  Simply stick it in place.  Connect the (2) bullet connectors to your wire harness, and zip tie the wires to secure them in position.
NOTE:  RECOMMENDED FOR ORIGINAL OR 'SLIM' GREEN GUARD MODELS.  NOT LARGE ENOUGH FOR [HD] MODEL.  USE [HD] BATTERY BOOSTER KIT FOR [HD] MODELS.